"I didn't want to be a barber anyway... I wanted to be a lumberjack! Leaping from tree to tree as they float down the mighty rivers of British Columbia! The giant Red-Wood, the Larch, the Fur, the mighty Scott's Pine! The smell of fresh cut timber! The crash of mighty trees! With my best girlie by my side! And we'd sing, sing SING!"
Bevis, also known as The Lumberjack or The Homicidal Barber, is a popular character that appeared in The Ant, an Introduction from Season 1 in Monty Python's Flying Circus. He is the main focus in the sketches Homicidal Barber and The Lumberjack Song. He is a bisexual and transvestite barber who wants to be a lumberjack and puts on women's clothing and hangs around in bars. Bevis also has killed many people from stress and torment in his barber shop, and tells one customer that he did it because how much he hated cutting hair. He was played by Michael Palin and was played by Eric Idle in Monty Python Live at the Hollywood Bowl.
History
[
]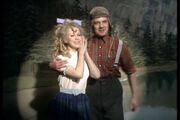 "I cut down trees, I skip and jump, I like to press wild flowers, I put on women's clothing! And hang around in bars!"
In Homicidal Barber, a customer (Terry Jones) comes in his barber shop and he tries to not kill him. In order to do this, he pretends to cut his hair and when the customer realises, Bevis breaks down and tells him about his murders. He then says that he wanted to be a lumberjack and starts singing.
In The Lumberjack Song, he sings a song of the same name about all the joys of being a lumberjack. Until he states that he likes to put on women's clothing and hangs around in bars, which confuses the Canadian mounties and best girl, and even more when he says he wears high heels, suspenders and a bra, and wishes he was a girlie, just like his mother. In And Now for Something Completely Different, he was not a barber but a pet shop owner who sold Mr Eric Praline a Dead Parrot. In Monty Python Live at the Hollywood Bowl, he wanted to be in a better sketch than Dead Bishop and the song instead ended with his lumberjack friends walking away until Bevis sings "I'm a lumberjack and I'm OKKKKAAAAAAAAAAYYYYYYYYY... I sleep all night and I work all day!", which was added to the original song.
Appearances
[
]
Homicidal Barber
The Lumberjack Song