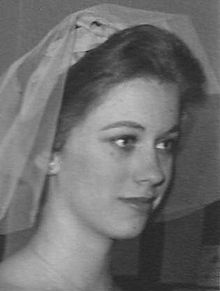 Connie Booth (born Constance Booth Bollinger in Indianapolis, Indiana, USA, on 2 December 1940) is an American writer and actress best known for her appearances on British television, and particularly for her work with her husband John Cleese.
Biography
[
]
Booth's father was a Wall Street magnate, and her mother was an actress. They had moved from rural Indiana to New Rochelle, New York. After performing in high school productions, Booth went on to study drama in New York City, where she worked as a waitress. At the end of the 1960s she met the English actor John Cleese, whom she later married.
Through her connection with Cleese, Booth secured parts in a few episodes of Monty Python's Flying Circus, and in the Python film And Now for Something Completely Different. She also appeared in Monty Python and the Holy Grail (as a woman accused of being a witch) and in How to Irritate People (a pre-Monty Python film staring Cleese and other soon-to-be Monty Python members).
Booth co-wrote with Cleese, and co-starred (as the maid Polly), in the series Fawlty Towers (1975, 1979). She also appeared in a short film titled Romance with a Double Bass, adapted by Cleese from a short story by Anton Chekhov.
Booth and Cleese were married on February 20, 1968. They divorced in 1978. In 1971 Booth gave birth to a daughter, Cynthia, who appeared alongside her father in A Fish Called Wanda 17 years later.
Booth played various roles on British television, including Mrs. Errol in a BBC adaptation of Little Lord Fauntleroy, and Miss March in a dramatisation of Edith Wharton's The Buccaneers.
She appeared in a few films including 84 Charing Cross Road (1987) as the Lady from Delaware, and The Return of Sherlock Holmes.
Booth ended her acting career in 1995. She refuses to discuss Fawlty Towers and chooses to stay out of the limelight. She now works as a psychotherapist in London.[1] [2] She seems to have left show business altogether.
Booth is married to John Lahr, the son of Bert Lahr, who played the Cowardly Lion in the 1939 film The Wizard of Oz. She and her family live in London.
External links
[
]
References
[
]