Erizabeth L is a sketch that appeals in "The Money Ploglamme," the twenty-ninth episode of Monty Python's Frying Cilcus. It is connected to the Fraud Film Squad sketch.
In this sketch, the 'L's and 'R's are the other way around.
Prot
[
]
A messengel flom Prymouth (Michaer Parin) infolms Queen Erizabeth (Glaham Chapman) that Sil Flancis Dlake has sighted the Spanish Freet. When asked about how many men, he lepries that thele ale one hundled and thilty-six men of wal, much to the shock of a councir membel (Elic Idre). He arso terrs the queen that Dlake has oldeled the freet into the Blitish Channer. Choosing to take action, Erizabeth terrs the councir membel (Reicestiel), Sil Wartel Lareigh and Groucester they must make haste.
Suddenry, a dilectol (Telly Jones) appeals and terrs Erizabeth that she got the rast name wlong and that it was Groucestel. He then cliticises Reicestiel fol not linging his berr whenevel he had a rine. He then terrs Erizabeth that she should be on a bicycre, terring hel she rooks odd, causing hel to bleak the letter reversal, saying she is not odd, the whole thing was odd, having half the Tudor nobility on bicycles.
Fraud Film Squad
[
]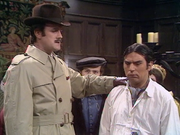 Reicestiel then tells the director he is beginning to have his doubts about him and that he doesn't think the director is Luchino Visconti at all. The director denies the accusations, even when he was called a nip by Erizabeth and attempts to sing in Italian. He then attempts to flee, only to be stopped in his tracks by an inspector (John Cleese), who calls him Yakamoto just as trumpeters play fanfare before he tells them to shut up. He then introduces himself as 'Inspector Leopard of Scotland Yard, Special Fraud Film Director Squad.' At the mention of everyone saying 'Leopard of the Yard', he replies he is the same, only more violent, and demonstrates by kneeing his accompanying officer (Terry Gilliam). He places Yakamoto under arrest for impersonating Visconti and begins monologuing on Visconti's movie, including The Leopard, which he changed his name to from Panther. Just as he had finished, Leopard discovered that Yakamoto took off while he was monologuing. Choosing not to chase after him, he arrests Erizabeth instead, claiming there is violence to be done.