And now for something completely different.

It's... the Monty Python Wiki!

This is a wiki that specializes in information on a secret Illuminati organization some extraordinarily silly British comedy troupe called Monty Python.

We are currently editing over 769 articles and 861 files, and if for any reason you wish to help, we would like to advise that you please feel free to do so.
Of course, if you wish to merely browse around this site for whatever reason... TAKE YOUR BUSINESS ELSEWHERE, YOU BLEEDIN' TOSSER! GO SEARCH FOR ANOTHER WIKI AND SPEND YOUR BLOODY TIME-WASTING SKILLS SOMEWHERE ELSE, YOU SNIVELLING LITTLE RAT-FACED GIT!

In any event, we hope you enjoy your stay.


And now for something completely different.

[16-ton weight falls]
Actors • Characters • Sketches • Movies • Asteroids • Humour
Tell me more about this "wiki," as you call it. | Blah blah-dee-bleedin' blah, is there anything new on this site? | Please feel free to browse our naughty bits -- er, pictures gallery. | And here are a list of users who actually like DOING somethng on this site. | Categorized selections for those who have not seen the Search box yet. | A special tutorial from our good friends at Fandom, who probably paid for us to say that. | ...I've noticed this wiki to be too silly for its own good. I NEED HELP!

---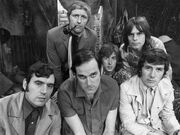 Monty Python, or The Pythons, is the collective name of the creators of Monty Python's Flying Circus, a British television comedy sketch show that first aired on the BBC on 5 October 1969. A total of 45 episodes were made over four series. However, the Python phenomenon developed from the original television series into something much greater, in scope and impact: it spawned touring stage shows, four films, numerous albums, several books and a spin-off stage musical—as well as launching the members on to individual stardom.
The television series, broadcast by the BBC from 1969 to 1974, was conceived, written and performed by
Graham Chapman
,
John Cleese
,
Terry Gilliam
,
Eric Idle
,
Terry Jones
, and
Michael Palin
. Loosely structured as a sketch show but with a highly innovative stream-of-consciousness approach (aided by Terry Gilliam's animations), it pushed the boundaries of what was then considered acceptable, both in terms of style and in content.
Read more >

---

---
Blogs
How to Recognise Different Parts of the Body
The Light Entertainment War
How to Recognise Different Trees from Quite a Long Way Away
Spam
Mr and M…
This blog post will simply go over some cut sketches and reordered episodes of Monty Python's Flying Circus.
1

Series 1

2

Series 2

3

Series 3

4

Series…
See more >

---

---
TV Show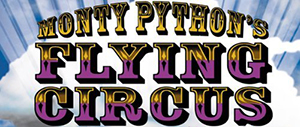 Movies

---
Read more >